Adverse Event & ESI Information
Looking for information on ESIs?
Defining adverse events
Adverse events (AEs) and serious adverse events (SAEs) form a very important part of the data we collect on BADBIR. We define an adverse event as follows:
"Any untoward medical occurrence in a patient being administered a pharmaceutical product, which does not necessarily need to have a causal relationship with the product."
This importantly means that while adverse events can be directly attributed to a drug the patient is receiving, they do not have to be. On the other hand, any side effects should be recorded even if they are known to be caused by a drug the patient is receiving.
Although a drug may have commonly occurring, known side effects, it is still important that these are reported as adverse events.
Our Adverse Events Quiz will test your knowledge on what constitutes an adverse event, what makes an event serious, and details of events of special interest.
Recording an AE or SAE
Details of all adverse events and serious adverse events can be recorded on the follow-up questionnaire. There is no obligation to inform BADBIR of adverse events as they occur - simply input them onto the database as part of routine follow-up.
Recording an event of death
Death is a serious adverse event, but one which we handle differently. We ask that you fill in the latest follow-up with as much information as is available, including drug details, and details of the event itself. If there isn't a follow-up available for entry, please contact the BADBIR office and we will open a follow-up for you.
Please don't use the 'File an Adverse Event' link or the 'Feedback / Comments' section to report a death.
If you don't have details of the cause of death yet, please enter what you can and we will add a query which you can respond to as more details become available.
When is an event serious?
When recording details of an adverse event on the BADBIR database, you will be asked to indicate whether the event is serious (ie. an SAE). The following questions may help you decide:
Was the event immediately life threatening?
Was the patient admitted to hospital overnight?
Did the event prolong hospitalisation if the patient was already in hospital at the time of the event?
Did the event cause a congenital anomaly if the patient was pregnant at the time of the event?
Did the event cause the patient to have IV antibiotics?
Was the event Medically Important? E.g. pregnancy, cancer.
If the event doesn't fall into any of the above categories, please answer "No" to confirm the adverse event is not serious.
Events of Special Interest (ESIs)
As well as deciding whether an event is serious, we will also ask if the event classifies as an Event of Special Interest (ESI). There are currently 19 types of events that we require a little more specific information on, and therefore they each have a separate form.
Normally, if a non-serious event falls under an ESI category, it can automatically be marked as serious. The exception is psoriasis flares: A psoriasis flare only requires an ESI form if the patient was hospitalised overnight. If the patient was not hospitalised overnight, you don't need to fill in an ESI form.
A serious adverse event (SAE) is not automatically an Event of Special Interest (ESI). If the event doesn't fit into an ESI category, you don't need to fill in an ESI form.
Entering ESI forms
You can view and download any of our ESI forms as PDFs from the ESI Forms page.
These can be printed and filled in alongside the normal data collection forms for a patient's follow-up visit. They can then be input onto the database just after you've entered the relevant adverse event. Please note the way you select an ESI category for an adverse event has changed - once the event details have been saved, you can add ESI categories from the adverse event summary page.

The database now allows multiple ESI forms to be attached to a single adverse event, allowing you to select more than one ESI if the event falls into multiple categories.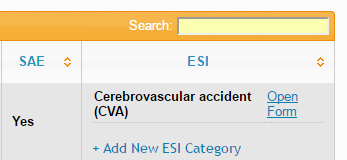 Once you've added an ESI category, you'll need to click Open Form to enter the details. Don't forget to do this to avoid a query being raised.
Please note, faxing is no longer our preferred method of receiving ESI forms. Please enter them directly onto the database.
If you need to enter ESI details outside of the 21-day edit window for a follow-up, you can use the red 'Missing ESI Form' link on the left-hand menu when viewing a particular patient's table of follow-ups (the patient summary page). Alternatively, you can see all of the missing ESI forms for your centre by clicking the 'Missing ESI Forms' link on your home page as soon as you have logged into the database.
Help with adverse events and ESIs
If you have any queries related to adverse events, our pharmacovigilance team would be happy to assist you. You can reach them on 0161 306 1911 - or feel free to email badbir@manchester.ac.uk with details of your query.